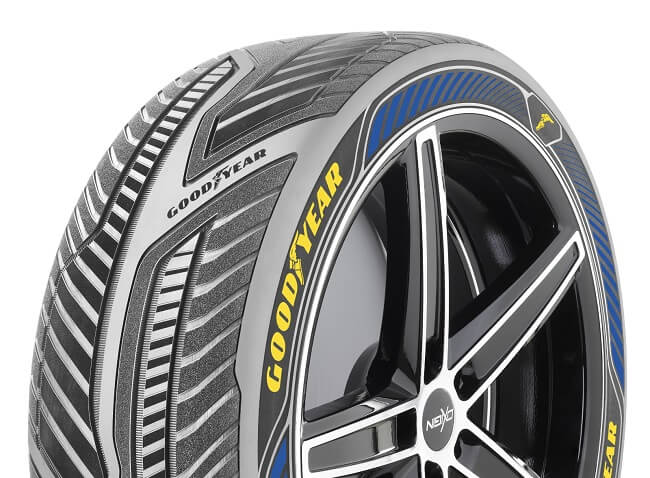 Automotive
Reinventing the Wheels
By
|
In today's age where top researchers and companies are "reinventing" driving and smart cars are becoming reality, tire manufacturer Goodyear decided to reinvent the wheel with first-ever spherical tire. At the 86th Geneva International Motor show, Goodyear revealed their two new concepts for tires, Intelligrip and Eagle-360, specially made for self-driving vehicles. One is a spherical tire that allows movement in all direction and the other one is a smart cylindrical tire that adapts to different weather conditions.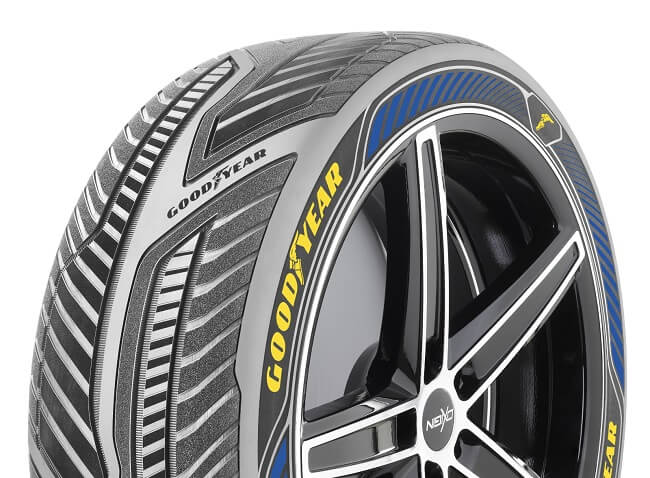 Self-driving cars use advanced algorithms, sensors and control systems to run, but their tires still use old technology that didn't change much in the last decade. That is why researchers at Goodyear thought that the next step for bringing self-driving cars on the roads is to create new types of tires that will ensure safety and give maximum control to the car.
Goodyear stated that these types of tires will not be available for commercial use in next few years but I think it is worth to take a look at the design and technology behind these two new interesting tire concepts.
Intelligrip
The first design is called Intelligrip and it is more realistic concept than the Eagle-360. It has the traditional look of the cylindrical tires but has very advanced sensors built into it to enable communication between the tire and autonomous vehicle control. Intelligrip sensors are able to assess road and weather conditions, also they monitor wear on the tire and vehicle as well as measure temperature and pressure of the tire.
Researchers at Goodyear say that they are already in talks with car manufacturers on how to implement some of the technology of the Intelligrip to today's tires by enhancing features like Suspension Control Systems, Brake Control Systems and Stability Control Systems.
Eagle-360
The second concept, spherical tire or as they named it Eagle-360 is like something out of a sci-fi movie. It is completely round and has no axle to rotate on which is unimaginable for today's cars. The tire is held in place with magnetic levitation that gives it complete 360-degree movement, giving your car superior maneuverability. This essentially means that the vehicle is floating above tires, giving you smoothest ride possible.
Because of the tires spherical shape, Eagle-360 has larger surface area than cylindrical tires, making it last longer than traditional ones. Spherical tires will also come with built-in sensors so that it can detect and rotate worn out surface prolonging its usage even more. Even the tire thread uses the latest technology, its 3D-printed pattern resembles brain cornea and acts like natural sponge allowing it to stiffen in dry conditions and soften in wet improving car handling. Eagle-360 tire is also equipped with sensors that communicate with traction control and give information about weather conditions allowing the car to adjust itself accordingly. Until this innovation sees the light of day, you can read all about the latest advancements in tire technology here.
Researchers at Goodyear claim that this new type of tire brings many advantages in driving. Other than its increased durability and traction control Eagle-360-s shape allows cars to move sideways, allowing better navigation in tight spaces like parking spots and busy city streets. When it comes to parking there is no need to do three-part-turns in tight spaces, because of their all axis movement spherical tires can just glide in any available parking spot without changing the orientation of a car. This could eventually lead to more efficient use of road space. The ability to rotate on any axis in any direction also increases the safety of passenger by allowing the car to avoid obstacles faster and smoother.
As with all futuristic concepts based on advanced technology, there are some design issues. The first issue comes from the spherical shape itself, because of the size of the sphere front and rear axles would need considerable shortening. Another issue is that these smart tires can potentially cost a lot to manufacture. Considering already steep prices of high-end tires, the Eagle-360 and Intelligrip with all their sensors built-in can be expected to be even more expensive.
Even though Eagle-360 and Intelligrip are just concepts and we will not see them on the roads in the next couple of years or maybe even a decade, the technology behind their design is not the work of fiction. I hope that Goodyear keeps working on their concepts, and continues to find ways ofovercoming their design issues. Who knows maybe we will have self-driving vehicles on spherical tires sooner than we think.