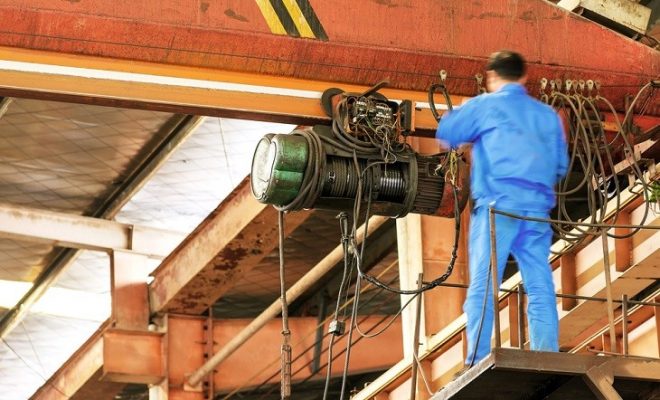 Industrial
How to Choose a Company for your Crane Service & Repair
By
|
Heavy lifting machines are in a realm of their own, meaning that when it comes to getting your crane serviced or repaired, you have to choose an expert company that understands it inside and out.
Business-owners and site foremen know that if a crane breaks down, it can dramatically put your project behind schedule. To avoid this, or quickly reach a resolution if this ever happens, it is always a good idea to have the name of a reliable, local repairing company in mind.  This means you can quickly repair any problems that arise as well as keep your machines regularly maintained to prevent issues in the future.
To help you work out which crane company in your area you should rely on, here are some factors worth considering:
Company History and Reputation
Because these lifting machines are designed uniquely, you need a company that has years of experience working with them. You will need to choose a crane company that you can rely on for years to come, which means they need to have a successful track record. Choose a company that has been in the industry for years, so you know that they have the skills and tools to get the job done, and will be around to work with you in the future. To gauge different companies' reputations, speak to others in the industry about good or bad experiences that they may have had.
Get a Quote
As you'll be needing regular maintenance for years across your entire fleet of heavy lifting machines, it's important that you are happy with the price offered by the company you end up choosing. Ask around for quotes, but don't necessarily go for the cheapest quote: there's a reason why the adage "you get what you pay for" has hung around for so long.
Instead, establish a relationship with a company that can provide competitive prices and bundles for repeat customers.
Check for Insurance
Your crane is an expensive piece of machinery, meaning that you need to be covered in case any damage is incurred during servicing. See the company's proof of insurance before enlisting their services to ensure your huge machines are covered if anything happens during servicing.
Check for Modern Equipment and Technology
The company you turn to for crane service and repair should work with the latest equipment. Also, enquire as to whether the company has a good supply of replacement parts in-house so that you do not have to wait for them to order supplies from elsewhere.
Align with your Timeline
When your heavy lifting machinery is out of action, it can dramatically affect the timeline of your entire project. This means that you need a repair company that will be able to assist you immediately so that your entire project is not derailed. Additionally, the company should also have the flexibility to book you in for routine servicing ahead of time, so that this does not disturb your workflow.

Wide Variety of Services
Opt for a company that can provide a variety of services, so that they can be your first point of contact for any issue related to heavy lifting machines. At the same time, however, ensure that the company truly specializes in cranes and are confident working with all types of it. Choosing any old mechanic that claims to know just as much about all the machines as 4WDs will not yield good results.