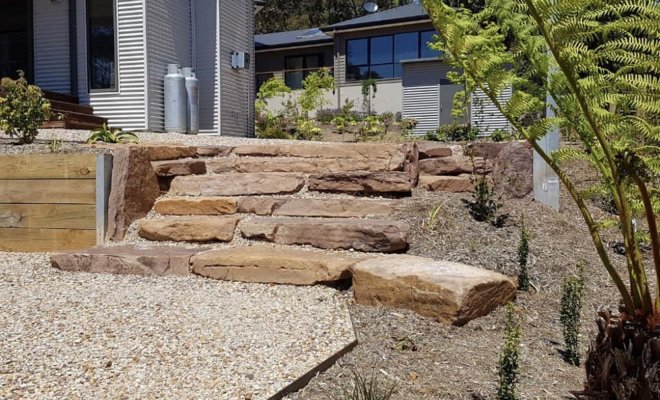 Home Improvement
Reasons to Choose Mudstone for Your Landscape Project
By
|
The landscape is a beautiful element that connects home with the wonders of nature. From sprawling grasslands, a wide range of trees to exquisite waterbeds, there are so many natural elements that can be achieved with the right design and best materials. One such material that should be a part of your landscape project list is mudstone. Part of the natural rock family, this stone exhibits unique fine-grained patterns that add a new dimension to any style of landscape.
However, if you are still uncertain about making them a part of your landscaping design then worry no more, as this article reveals 5 incredible reasons that highlight the spectacular impact that traditional mudstone can make.
How Mudstone Affects Your Landscaping Design?
As Mentioned Earlier, There Is Not Just One but Five Ways by Which the Natural Stone Influences the Overall Aura of Landscape and These Are: 
Natural Vibe: people choose mudstone to decorate their outdoor because of their natural look and feel. This helps in creating realistic patterns and designs that would complement the surrounding elements of the landscape. Think about it, water from the fountain falling on the stone or creating walkways, and you can give a unique touch to your landscape area by using such natural stones.
Durability: A common misconception that most of people have is that natural stone may not be durable enough to withstand the extreme conditions of a landscape. With mudstone, you will never have to worry about gouges, chips, and scratches, and most importantly due to its natural composition of 65% sedimentary rocks, they are less susceptible to decay or frost damage.
Sustainability: Without a doubt, mudstone is 100% natural, so it's something that is created by nature for nature. This is the reason why no additives, harmful compounds or chemicals are required for installation, and compared to other common construction materials, the stone consumes minimal energy for the process of extraction as well.
Versatility: Based on the landscape design that you have in your mind, the stone can be crafted in several designs, textures, shapes, colors and more, providing endless choices so that you can have the landscape of your dream.  But, to install and use such mudstones in your landscape area, you need to hire a professional stonemason. He can design the landscape with such stones, and he can also use different colored stones to make the retaining walls of your landscape.
Easy to Maintain: Whether you don't have the time to take care of the landscape or are struggling with other elements of the space, mudstone will never disappoint you. After installation, the stone with time tends to develop a patina that not only protects it from extreme conditions but adds to its beauty too.
Landscape Design Will Remain Incomplete Without Mudstone
A picture-perfect landscape is always about a vision- to create an impeccable space that embodies the purity and vitality of nature in a natural way. Now, this can only be achieved when you invest in products that are part of nature, and mudstone undoubtedly is one of them. Put it simply, it's more like bringing different elements of the resourceful nature such as plants, trees, waterbeds and most important stones to establish your own comfortable, relaxing and sustainable space.
As much as you need the finest variants of trees and shrubs, you also require the right stones to complete your landscape project. Therefore, you must choose reliable suppliers who specialize in natural stones and can cater to the quality, style, and design of stones that you want to incorporate in your landscape.